GIHS excited for Charity Week! (March 13th-17th). The Student Council has been hard at work collecting donations from businesses and creating events for GIHS students to participate in raising money for Feeding Detroit & Downriver and Mimi's Mission.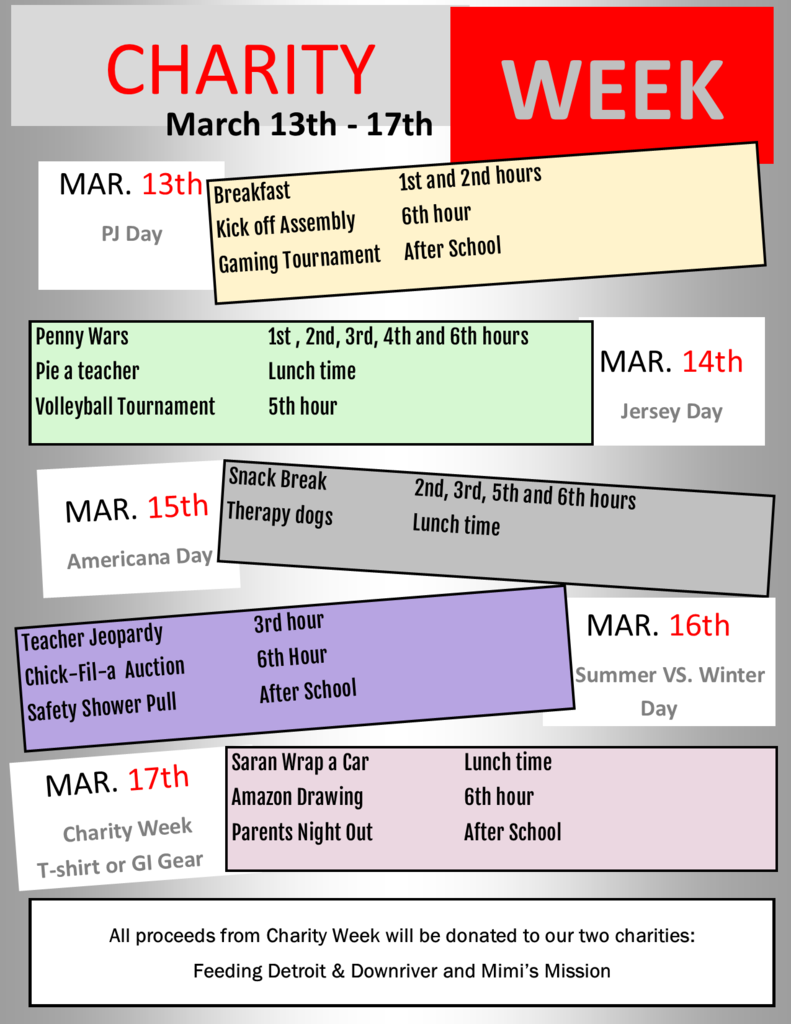 Winter Athletic Awards Night is next week!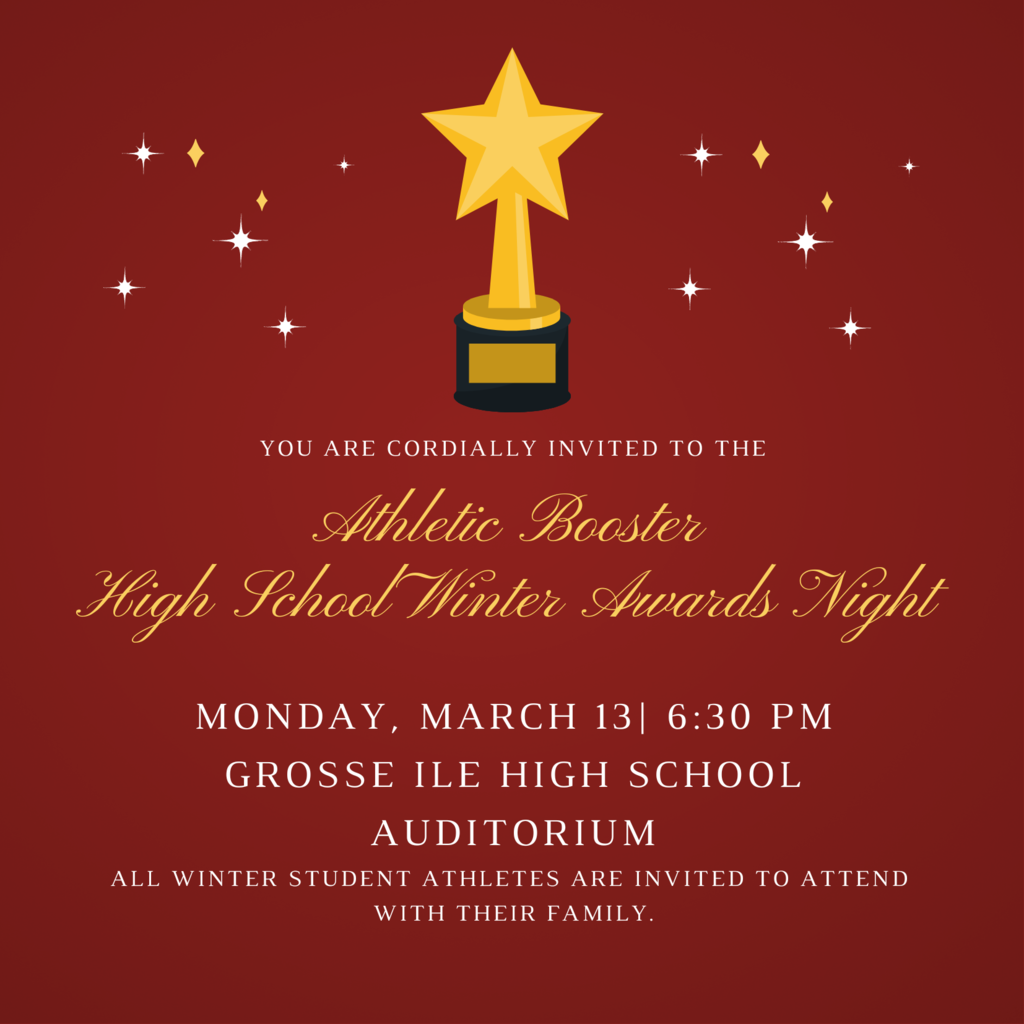 GI Hockey wins Sunday over Divine Child. Next up #1 seed Gabriel Richard vs #2 seed Grosse Ile on Wednesday in the Regional Championship Game at Yack Arena in Wyandotte. Go GI!!!
Varsity competitive cheer team is on its way to State Finals - out of 75 teams in Division 3, they are top 8 in the state! State finals are Friday March 3rd, 1:00 pm, at Central Michigan University. Go GI!!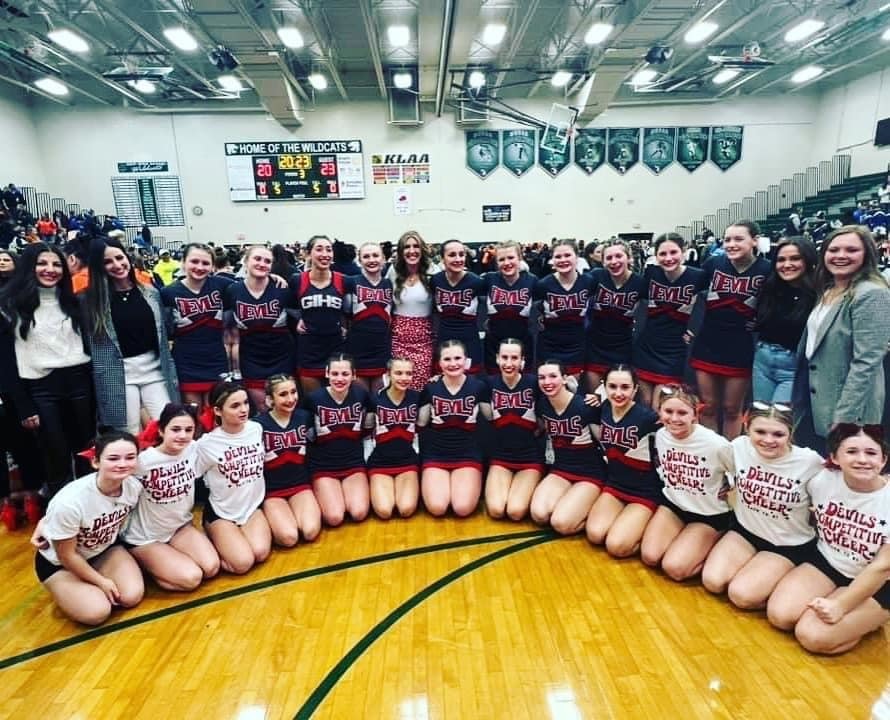 February has been a busy month for the Student Council! We are in the process of planning Charity Week, a week in which we raise money for two local charities. This year, our charities are Feeding Detroit and Downriver, which produces and distributes food to homeless people in the area, as well as Mimi's Mission, an organization that runs programs to assist autistic individuals and their families. Charity Week will run from March 13-17 and will include events such as a volleyball tournament and jeopardy show featuring GIHS teachers. So far, we have garnered nearly $3,000 in sponsorships from local businesses, and we are excited to continue working with the Grosse Ile community to reach our goal of $10,000 for these two wonderful causes! Please keep an eye out for our upcoming Charity Week events and participate! Also, from February 25-27, about 20 Student Council members will be attending MASC/MAHS' Student State Conference in Grand Rapids. At this conference, students will improve their leadership skills by networking with students from all over the state and learning new ways to boost student body spirit and participation.
CONGRATULATIONS to the Varsity Cheer Team on their 1st Place at the Huron League Jamboree .
Way to go Figure Skating Team!!!! Our skaters have completed the district meets for the season and the C Team finished in 5th place: Alayna Teets -GI,and Sarah Shamus-GI The A Team will be representing our schools at the State competition in March: Abrielle Herr -GI Macy Lacourse -GI Joscelyn VanCleave -GI Annabelle Wright -GI Congratulations to All our Skaters! Good Luck at the State Championship! All reactions: 56
GIHS National Merit Scholars!!! Officials of National Merit Scholarship Corporation (NMSC®) have announced the names of the National Merit Scholarship Finalists. These finalists were selected from over 16,000 semifinalists in the 68th Annual National Merit Scholarship Program. To become a finalist, the semi finalist and a high school official submitted a detailed scholarship application, in which they provided information about the semifinalist's academic record, participation in school and community activities, demonstrated leadership abilities, employment, and honors and awards received. They must have an outstanding academic record throughout high school and have been recommended by a high school official. Selection was also based on an essay as well as SAT® scores that confirm the student's earlier performance on the qualifying test. We are very proud to announce that we have 3 GIHS students that have met the stringent requirements for becoming a National Merit Scholarship Finalist. Congratulations to the following students: Serafim Dionyssopoulos Luke S. Hargrove Avi N. Patel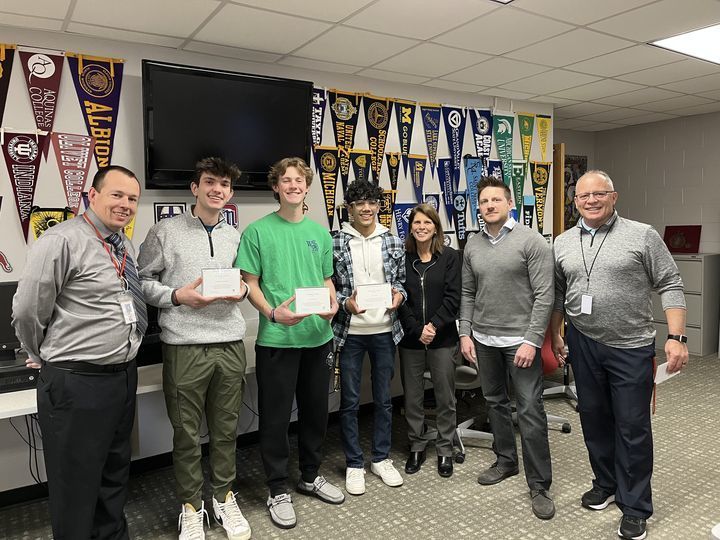 Monday, March 13th will mark the beginning of spring sports season, so let's get ready to show our school pride! #onegrosseile

On Thursday, March 9th, we will have an early release in preparation for parent/teacher conferences!

A quick reminder that we will have a delayed start on Monday, February 27th.

Fall High School Play